Idriss Déby Black Radical President of Chad
Idriss Déby Black Radical President of Chad
Most people have not heard of Idriss Déby who is the current president of the Sovereign nation of Chad. He has been the president of Chad since 1990 and based on the biography of this leader, he has the longest reign in Chad.
That has a lot to do with his leadership ability and military background. His predecessor Hissène Habré, was a bit different, as it is said that the predecessor was brought to power with the provision of France and the United States.
However, many human rights abuses were brought up against him. He was convicted by international courts of many heinous war crimes. Not many Chadian presidents have served multiple terms, however, Déby has done so with good achievements to go along with it.
Black Radical President of Chad
This can be seen in his re-election success, as he has been reelected with the majority votes every five years since he took office in 1990. He isn't re-elected because he is a bully either. Like most military leaders in Africa, they have to face plenty of potential overthrows or coup d'etats. Luckily, he has been able to overcome these.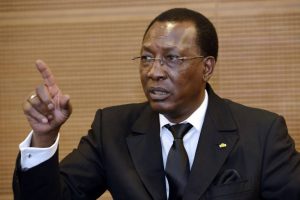 One of the really difficult things that take place in many African nations (that have poor stability) is potential wars with other nations. Also, religious wars within the nation, and potential coups against the current government. This is why African heads of state become very good at managing their stay in power often more than their nation.
This makes it difficult for the nation to expand and grow because of these difficult potential outbreaks they have to manage. Déby is also fighting a war against Boko Haram, which has made its way into Chad. He is devoted to fighting against them.
Idriss Déby Achieving National Stability
These are many of the things that President Déby has to deal with. In 2006, after another election win, he was able to secure peace with Sudanese president Omar al-Bashir. This was another step toward achieving national stability.
Déby has also made partnerships and leagues with Germany and other European nations to assist with stability, and propel Chadians into a new economic age.
Black leader, black radicals, black presidents, Idriss Déby, black radical. Sometimes we just need to learn and know about men and women that the world attempts to know nothing about!